Another Core! The Next generation of Multi-core processors is finally on the shelves, dubbed 'Core i7'. It uses the new Nahelum micro-architecture. But is it really the time to upgrade? Lets digg in!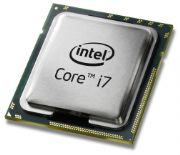 Core i7 has a lot of changes, but inherits the same processing efficiency of the older Intel's Core based processors (like Core 2 Quad). This is what to expect:
Four Cores with Hyperthreading, upto 40 % improvement in Performance than older generation processors.
Large 8 MB L3 cache
Integrated memory controller giving more bandwidth to applications.
Addition of 7 new Instructions for Multimedia, giving boost to Online Video-streaming.
High Power Dissipation (50% more than the previous generation)
Support for upto 12 GB Memory, and DDR3 1333 MHz Compatibility
The new processor is targeted mostly for servers, but Deskop computers can also use it for great processing power. Video Encoding, gaming and other performance hog applications are going to take most of its advantage. However, its not compatible with older desktop boards (It uses socket 1366). The only problem is the increased Power dissipation, but that will decrease with time as the series mature. It seems to be a perfect processor for an upgrade! Lets wait until AMD comes with an alternative and the prices goes down. Overall, its a great step in Desktop Performance!